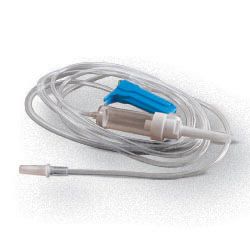 IV Set Up
Our IV administration sets feature universal kink resistant tubing with smooth action roller clamp, and Y injection site. Available in 10, 15 or 20 drop per mL sizes Compatible with both bottles and bags.

Roller clamp controls flow rate of intravenous medication or fluids.

IV Set is Sterile

Meets a wide-range of solution administration requirements.

Tubing Length: 72"

20 drops per mL rate.
COMES WITH OR WITHOUT CATHETER.
Reviews